"For students who are talented, serious, dedicated, and excited about dance, belonging to One Beat Company means getting a chance to develop their technique quickly and correctly through intense focus and practice."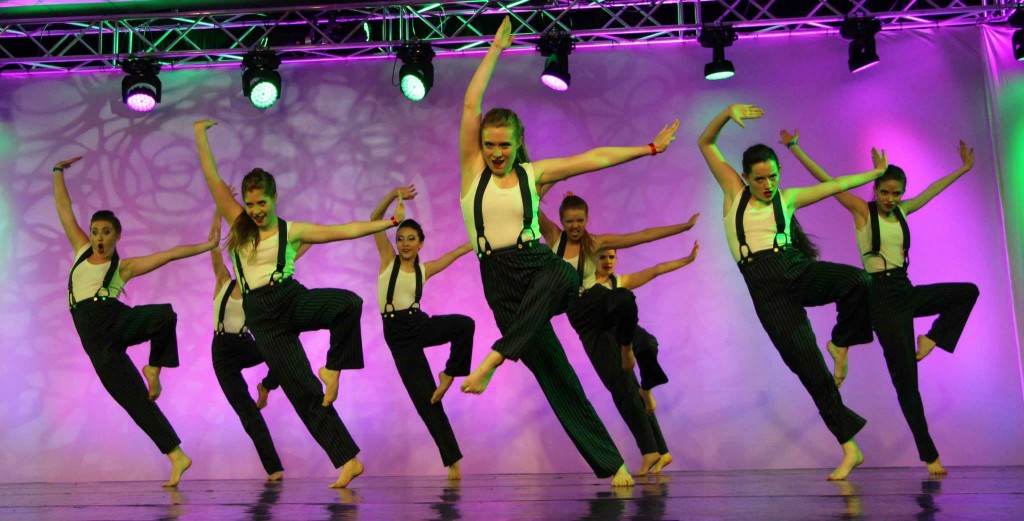 Dance Du Coeur's One Beat
Dance Du Coeur's Company, One Beat, is a competitive dance team for dancers aged 5 and up. Dance Du Coeur students who are identified by their teachers as prospective One Beat members will be invited to join the team. Other prospective members are accepted through an audition process which includes per-forming a series of dance combinations for the director, an interview, and a questionnaire that is completed by the applicant and one parent. The member and both parents are required to sign a contract which commits them to taking specified classes and attending specified competitions, workshops, and other events for a 12 month period, which starts in June, Membership is reevaluated each year based on the student's contribution to the team in the form of his or her commitment, participation, integrity, and mature, respectful, interactions with fellow members, teachers, and the director.
Company members take dance classes Monday through Friday (10 to 15 hours a week), with core classes in Ballet, Jazz, and Contemporary. (For Petite Company, members take 4-6 hours of class a week). Elective classes in Tap, Pointe (if approved), and Hip Hop are suggested. Some weekend practices will also be required but advance notice will be given.
One Beat attends six competitions in the Spring, between January and May. The junior and senior companies will likely travel to one out-of-town (possibly out of state) competition and/or convention during the season as well. The rest of the competitions will be in the Houston area.
For students who are talented, serious, dedicated, and excited about dance, belonging to One Beat Company means getting a chance to develop their technique quickly and correctly through intense focus and practice. With that, their poise, sense of artistry, self confidence, and self discipline will also grow.
Belonging to Company also means working well with a team. Good sportsmanship, peer support, polite manners, integrity, and age-appropriate maturity are expected. This positive attitude, combined with hard work and a significant investment of time, results in a strong bond between Company members. We think you will form genuine friendships here that will last a lifetime.
The three groups in Company are: Petite, Junior (which has two levels), and Senior.
Petite Company—Dancers aged 5 through 8 (by January 1, 2015) who have had at least one year of dance class and who were privately invited by the Company Director or accepted through an
auditions process. Members aged 7 and 8 take one ballet, one Tap and one jazz class a week (three hours a week) plus two 1.5 hour rehearsals a week. Petite Members aged 5 and 6 take one
ballet/jazz class a week and two 1.5 hour rehearsals a week. The Petite Company attends two competitions a year between March and May, unless otherwise stated by the Company Director. At least one of these will include a convention workshop that they will be required to attend as well.
Junior Company– Dancers aged 8 through 12 who are accepted through private recommendation by a teacher or through an auditions process. There are two levels to our Junior Company. Those with less experience or who don't want to compete as much are in One Beat 2 which attends two to three competitions a year. The higher level Junior Company attends six competitions a year. Dancers with both One Beat 2 and Junior Company take two ballet, one contemporary, and one jazz class a week. One Beat 2 rehearses once a week while Junior Company rehearses twice a week.
Senior Company– Dancers aged 13 and up who are accepted through a private recommendation by a teacher or through and auditions process. Senior Company members have the same requirements as Junior Company. Besides receiving the best possible instruction, attention, support, and mentorship for personal development and growth as a dancer, One Beat members receive many "perks". See what the team has to offer on page 2. Also see One Beat Policies here.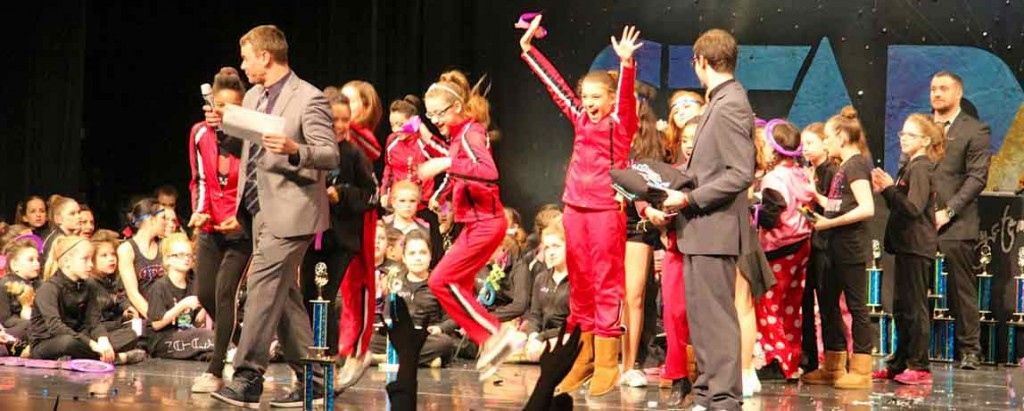 Why One Beat is simply UnBEATable
There are many other competition dance teams in the Fort Bend County area, but One Beat is simply unbeatable! Not only is this team a proven winner on the competition circuit, but One Beat offers perks and benefits that are second to none.
Professional Directors. Our directors were competitive dancers as kids and our lead Director, Whitney Dufrene, earned a college degree in dance. As a member of a professional dance company, Ms. Whitney trains daily and performs regularly.She is a fresh and inspiring spirit who shares her ongoing education with One Beat. She is more than just great teacher, she is a role model.
Quality Training. We aren't striving to develop competition dancers, we are striving to develop professional dancers. You won't spend endless hours learning and practicing dance tricks, although we do offer those classes, but you will spend the necessary time to master proper technique, strengthen your core, improve your flexibility, and develop musicality. Senior and Junior members will be required to attend at least two weekend conventions, such as West Coast Dance Explosion, Hollywood Vibe, Jump, or Artist Simply Human.
A positive, motivating environment. At Dance Du Coeur, the instructors use positive reinforcement rather than threats or intimidation.
A variety of teachers. You will be taking classes from several different teachers and this will expose you to more! Our teachers have dance degrees and most work professionally, or used to. They were specifically recruited to teach at Dance Du Coeur and truly excellent.
A variety of classes. We offer special classes not available at other studios such as Aerial Silks.
Amazing Choreography. We go out of our way to find the most artistic, trend-setting choreographers from across the country. Our pieces are unique and entertaining—what you would see at a professional dance concert. We steer clear from provocative or "cheesy" music, costumes, and choreography!
Learn to "Dance From the Heart." Our dancers stand out in competition because they know how to bring emotion and authentic expression to their dance. This is a skill that is not easily taught or learned, but we know what it takes! When you watch One Beat perform, you will feel, not just see, them dance.
A state-of-the art facility. Our two practice studios are stage size or larger with sprung wood floors and natural light. The larger one has a Marley floor cover. We have custom made curtains to cover the mirrors to create a stage environment. All our studios have Dropcams so you can access and email rehearsals for the purpose of studying and improving your dances. Our largest studio is equipped with a TV for video playbacks. We also have cubbies for you to store your bags, and a Company break room with a full size refrigerator, microwave and comfortable couch where you can hang out between classes.
Special Master Classes. We bring in special instructors to train our dancers in new methods that will help them grow. This year, we brought Denise Wall (mother of world renowned choreographer Travis Wall) to work with One Beat. At times, we have special guests teach classes to challenge dancers with something new.
Feedback. Our students receive comprehensive, written evaluations from their teachers twice a year. The directors have an "open door" policy and are available to meet with you, by appointment, or communicate via email about the student's progress.
Fun events! At Dance Du Coeur, we believe in inspiring our members by bringing them to see professional performances throughout the year. We also have studio sleepovers twice a year and many fun group outings. One Beat dancers love to spend time together in class and out because they are a team at heart, not just for show.
We have a zero tolerance policy for drama in the studio and if it surfaces, it is quickly "nipped in the bud." We stress camaraderie, respect, and teamwork at all times!
Give back! One Beat not only competes, but they perform at community events to bring awareness about certain issues or to entertain a crowd. We have performed at various Fort Bend County Women's Center events as well as many local festivals. One Beat members may log these hours for community service goals.
Learn to Teach! One Beat members aged 9 and up may assist a class (but they must make a weekly commitment) which will look great on a resume some day!
FREE use of studio space for privates! As long as the studio is available, you may reserve it for up to one hour at a time at no charge. We en courage our dancers to practice, practice, practice!
Win! Last but not least, you will get to reap the rewards of all your hard work when One Beat wins at competition! Although we certainly cannot guarantee this will happen, we have the recipe for success and our chances are very good if everyone works hard. See "Competition Achievements" below for our 2014 results.
---
2014 Awards
Most competitions score on a 300 point scale with Platinums awarded for scores over 290
Star Systems: Platinums for 8 out of 10 for group pieces, Platinums for all solos.

Seniors:
2nd and 5th place overall for Teen Small Groups (Thou Mayest and Lifeline)
5th place overall for Teen Large Groups (Rise and Shine)
Juniors:
1st and 2nd place overall for Junior Small Group (Enough and Sing Sing Sing)

StarBound: Platinums for 9 out of 10 Platinums group pieces, Platinums for 6 out of 7 solos
Seniors:
3rd, 4th, 5th, 8th overall for Teen Small Groups (Two Bit Blues, Task, Thou Mayest and Hunter)
1st overall for Teen Productions (Rise and Shine)
Juniors:
1st overall for Junior Productions (Young Right Now)
2nd and 4th overall for Junior Small Groups (Sing Sing Sing and Enough)

West Coast Dance Explosion Platinums for all Senior dances, High Gold for Junior Dances
Seniors:
1st overall for Teen Small Group, Teen Large Group, and Duet/Trio (Thou Mayest, Rise and
Shine, and Off the Rails)
High points for the entire competition – Thou Mayest
1st overall for Senior Small Group (Lifeline)
Artistry Award for The Task
Best Technique Award for Lifeline
Juniors: 1st in category for Enough, 3rd in category for Sing, Sing, Sing

International Dance Challenge: Platinums for all senior and junior group dances and solos.
Seniors:
1st & 2nd places overall for Small Group Teens (Thou Mayest and Hunter)
1st & 2nd places overall for Large Group Teens (The Task and Two Bit Blues)
1st place overall for Teen Line (Rise and Shine)
1st place overall for Senior Small Group (Lifeline)
1st place overall for Teen Duet/Trio (Off the Rails)
Top scores for all senior routines:
1st, 2nd, and 3rd (Thou Mayest, Off the Rails, The Task)
Best Choreography Award: Thou Mayest
Juniors:
1st, 2nd overall for Small Groups (Enough and Sing Sing Sing)
Winner of Entertainment Showdown: Sing Sing Sing
Presentation Award: Sing Sing Sing
Petites:
3rd overall for Large Group (Dream)

Platinum:
Seniors: Platinum Plus or Platinum for all group dances and for 6 out of 7 solos.
Ferocious Intensity Award for Hunter
1st, 2nd, & 3rd place overall for Senior Small Groups
Juniors: Platinums for both group dances.
1st in category for Sing, Sing, Sing.
Petites:
Platinum for Dream, Gold for Don't Rain on My Parade.
1st in category for Don't Rain on My Parade,
5th overall for Petite Small Groups (Dream)
---
"Dance Du Coeur is more than just a place for physical activity, though it does that very well. It's a place for dancers to come together, to encourage and inspire each other. The owners and teachers care deeply for the students and do whatever they can to help them grow. My teachers have instilled in me a love for learning and for dance." Jamie, Senior Company
"One Beat is a great experience for a dancer. For anyone wanting to be a concert dancer or a choreographer in the real world, this is the best team to be on. Our team is a support system and the girls on it are my best friends in the world. I feel accepted, even when I make mistakes. The environment is very caring and inspiring," Olivia, Senior Company
"When you are on One Beat, you will get to learn and compete dances choreographed by amazing choreographers," Chloe, Senior Company
"One Beat has helped me improve greatly as a dancer and has given me friendships and experiences I will never forget," Renee, Senior Company
"Dance Du Coeur has changed my life. I get to do what I love in the best possible environment. This company was the best thing that has ever happened to me," Aly, Senior Company
Audition Information
One Beat Auditions are held in May and June or by private appointment. The 2015 auditions are on Sunday May 31 and Monday, June 8 at the following
times:
Sunday, May 31:
10:00 a.m.– ages 6 to 8
11:00 a.m.– ages 9 to 12
12:00– ages 13 and up.
Monday, June 8:
5:00 p.m. – ages 6 to 8
6:00 p.m. – ages 9 to 12
7:00 p.m. – ages 13 and up
Other dates may be announced later. There is also the opportunity to have a private audition.
Please call to arrange a time.
For audition, dancers should wear a leotard or dance top with booty shorts or dance pants.
Hair should be in a pony tail or bun. Boys should wear black pants or shorts and a T shirt.
You may audition in jazz shoes, bare feet, or socks. Dancers will be taught contemporary and jazz combinations to do across the floor. The directors will conduct a brief interview with each applicant and ask them to complete a questionnaire.
Those who try out should not be discouraged if they are not accepted. It just means you aren't ready yet! Keep working! The directors are highly selective and may only choose one, two, or three new members for each team.
They will be looking for dancers who demonstrate that they are able to work very hard, take corrections well, and understand and accept the concept of teamwork. As for dance skills, they will be looking for the following:
Petites:
Able to execute a single pirouette on the right and left side.
Know how to do battements across the floor.
Has basic knowledge of musicality
(knows how to count music).
Can do cross ball changes across the floor.
Loves to perform and smiles in class!
Clarity of body positions (sharp arms in movement where applicable).
Right and left splits.
Juniors:
Able to execute a clean double pirouette on the right and left side.
Can execute jazz progressions across the floor including battements, cross ball changes, single and double pique turns as well as chaines.
Must be able to do grande jete's, center leaps, axel turns. Loves to perform and smiles in class!
Clarity of body positions (sharp arms in movement where applica-
ble).
Seniors:
Able to execute clean triple pirouettes on the right and left side as well as fouetté turns.
Has strong technique and movement dynamics.
Jazz progressions include double pique turns, chaine turns, single and double barrels, center leaps, switch leaps, etc. in which we are able to see strong body lines, use of plié,shift of weight through space.
Clarity of body positions (sharp arms in movement where applicable).
Right and left splits.
Can bring an emotional quality to their dancing. Knows how to use expression in their dancing. Displays strong sense of core and abdominal work.
Please RSVP for auditions at Info@SugarLandDance.com
Results will be emailed to you within 72 hours. If you are accepted and you
decide to join One Beat, you will need to sign a contract and make
your first company payment by June 10. Choreography sessions
will be announced but are planned for August. If you are on Company, do not make
travel plans or other long commitments for the month of August.
Summer requirements for One Beat members are as follows:
10 Ballet classes, 6 Jazz Classes, 6 Contemporary classes, and 6 Company Technique Classes.
Level 1 (ages 5 & 6) Petites take 6 Ballet/Jazz , 6 Ballet/Tap classes & 6 Company Technique classes.
One Beat's Company Concert is Saturday, May 17 from 4:00-6:30 p.m. at Discovery
Green ,1500 McKinney St, Houston! Tickets are $10 at the Green. Bring a lawn chair
and enjoy an amazing show!
---
COSTS:
Monthly tuition is as follows: $260 for Junior and Senior Company, $240 for One Beat 2, $210 for Petites ages 7 & 8 and $160 for Petites aged 5 & 6. Includes all rehearsals, core classes and electives except Aerial Silks and Gymnastics. Master classes and private lessons are paid for separately. Costs for competitions, costumes, choreography, props, conventions, and uniforms (if needed) are paid in four installments due on the following dates: June 10, August 1, November 10, and February 18. Your installment amount depends on the number of dances being performed but you can expect it to be about $500 per dance for Jr. and Sr. Company to compete with it six times, and $250 per dance for Petite Company to compete with it twice. Master classes, private lessons, choreography & costumes for solos, duets, and trios are paid for separately.
---